WELCOME TO OUR OFFICIAL WEBSITE
GREAT QUALITY SINCE 1943
ABOUT US
New Brunswick Lamp Shade has been in business since 1943. We are in the business of manufacturing quality lamp shades in the USA. Our customers include many of the finest lighting manufacturers in North America, the hospitality industry worldwide, as well as better specialty retailers and most of the "up and coming" lamp manufacturers who are creating the styles that will be the lighting fashions of the future. We also work with professional artisans and craftspeople who make lamps. We also work directly with customers and sell shades made of certain styles and sizes.
We are proud of the old-fashioned craftsmanship that brings a high level of quality to our shades. We stand behind our products 100% and can assure you the best quality at all times. We value our customers, employees and suppliers.
Thank you for your interest in our company. We want to be your source for great quality lamp shades.

---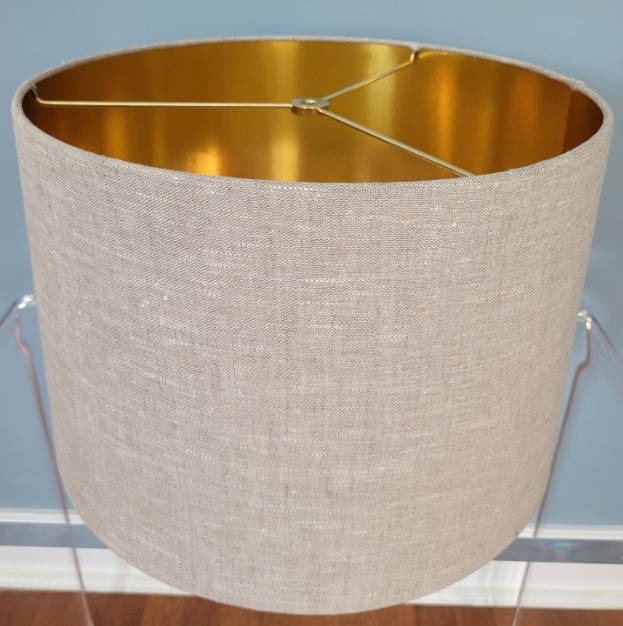 GREAT QUALITY
We are serious about great quality shades. Our shades are made in the U.S.A. from the best materials used in the industry. Our backings are the heaviest available. The frames are heavy-gauge wire with high-quality brass or nickel plating on the metal parts. We work hard to make sure the wire is on straight; the binding tape and trim is smooth. The seams are straight and won't pop open. The dye lot of the trim fabric always matches the body. Even our packing dowels and spacers are stronger to protect your shades from shipping damage.
GREAT SERVICE
We are known for our great service. This includes our speedy response to customer queries and quick manufacturing of great quality shades.
BEST PRICE
We strive to bring you value by being lowest priced for American made shades.
New Brunswick Lamp Shade has always been a wholesale lamp shade manufacturer. We are now able to sell certain fabric types and sizes directly to customers using two different channels. You can reach out to us directly here or try our new website www.groovylampsandshades.com to see what is available for immediate sale and what can be custom ordered. We are also venturing into making our own lamps and furniture.
Groovy Lamps and Shades has some of our shades/lamps/furniture that are available for sale direct to customers at the best prices possible for American manufactured goods. These goods are all manufactured here in New Jersey in our factory. Compare our prices to other American made goods of similar quality and you ll see our prices are the best.
Keep checking frequently as we add more and more.
Happy Shopping and Happy Saving.
Thank you for your interest in our shades. We are a business-to-business, wholesale source, but we also sell select styles and sizes direct to customers.
We make shades for Lamp Manufacturers, Lighting Retailers, Lighting Contractors, Hotels, Restaurants, craftspeople and residential designers
One of our strengths is our ability to make most of the materials we stock into just about any shape you can imagine. We are proud to offer the widest range of sizes, shapes and materials of any hard-back shade manufacturer. We have some popular sizes that we have listed, however we can make shades of any custom size.
STANDARD ROUND SIZES AND SHAPES : Click on the link to see the popular sizes and shapes organized in a easy-to-use format. The list only shows the popular sizes, however we can create a cutting pattern for any custom size needed.
STANDARD SQUARE, RECTANGLE AND OVAL SHAPES : Click on the link to see the popular sizes and shapes. If you need a size not shown, reach out to us and we ll make the size needed.
LIGHT FIXTURES : Click on the link to see information about everything you need to know about light fixtures for shades.

We manufacture lamp shade diffusers of all shapes and sizes in house. We are more reasonably priced than any other option available out there. Reach out to us and let us know how we can fulfill your diffuser needs.
We keep in stock 14 point styrene that is used to laminate fabric or paper used for hardback lampshades. Reach out to us in case you want to buy just the styrene roll.
A summary of the Terms & Conditions is as follows:

Minimums: Minimum shipment is $200.00 before freight. The minimum quantity of an item is typically four of a size.

Payment & Terms: You may pay for your order by credit card, check in advance, or open an account with us. If you are paying for your order in advance by check or credit card, we will send a pro-forma invoice for the total amount of your order. Please review it carefully and either send a check or our credit card authorization sheet.
We are happy to extend open account privileges to customers with established credit ratings. To open a "Net 30" account, please use our credit application. Since it takes time to check references, we suggest that new accounts pay in advance for the first order. Terms for open account customers are strictly Net 30 days. Orders will not be processed for customers whose accounts are overdue.
Confirmations & Acknowledgments: Acknowledgements or Pro Forma Invoices are sent for every order. Please review these carefully, as they contain the exact information used to produce your shades. If there is anything wrong, contact us immediately. Cancellations are not permitted after your order is in production.
Order Processing Time: All shades are custom-manufactured to order. We have no finished shades in stock. Orders are normally shipped within three to four weeks. If you have a "lamp shade emergency" and need the shades sooner, let us know. We can frequently expedite individual orders but we won't make promises we can't keep. Orders are processed in the order they are received. In rare cases, some special items, where we have to make special materials, trim, wires, etc., may take longer than normal.
Shipping Information: Prices are F.O.B. our factory in New Brunswick, NJ. Freight costs are paid by the purchaser. We ship all over the world. Orders are shipped via the least expensive method. Let us know if you have a shipping preference.
Defects, Returns and Freight Damages: We stand behind our products and want you to enjoy doing business with us. If you receive damaged shades, or in the rare event you receive defective shades, please contact us immediately, so that we can correct the problem. Since all shades are made to order, we do not accept returns of non-defective shades produced as ordered, (we have no way of reselling them). Freight claims are filed by the party paying the freight charges.
Terms and Prices are subject to change without notice.
We are here to help answer any questions or queries you may have.
We look forward to hearing from you.
Designers and Manufacturers Since 1943
7 Terminal Rd New Brunswick, NJ 08901
Phone: (732) 545-0377